Creating our art is about bringing legends and myths into form and life. Each faery tale we tell our children is a cultural inheritance going back to our ancestors. By finding meaning and inspiration in modern myth you can connect with the intimate relationship our forbearers had with the natural world around them, and still face forward into the 21st century.
Leah Odom is a native daughter of Maryland and the Chesapeake Bay country. The rich environment of the region strongly shaped her love for the outdoors and the wilds. As a teen, she found work at the MD Renaissance Festival learning the craft of mask making with Lauren Raine of Rainwalker Studios. Many years of this work prepared her to embark upon an independent career as a "mummer". Leah's continuing passion for craft and beauty has helped fuel an amazing ability to capture in brush and paint the subtle shades of a butterfly wing or the exuberance of a fairy face! Through painting she expresses the deep need we all have for the creative act.
Shane Odom is a native son of the ruggedly beautiful landscapes of north central Texas, When he attended his first renaissance faire as a child, he knew he had found his calling as a craftsman. A life-long interest in art & design has lead him to explore many mediums and techniques. And a continuing love for myth and legend guided him to a passion for Labyrinths as modern meditation tools.
Recently we have welcomed into our creative family the joyful addition of a new baby. Ellawyn Odom was born August 22, 2003 and has already begun to contribute lovely inspiration to the creative process. She joins Shane's son, her big brother Jared Odom, in the next generation of "Oddiments".
We have been in business since 1997, and feel that our various interest and artistic skills, combined with a love of all things creative, help to round out a truly "Miscellaneous" experience. We look forward to hearing from you.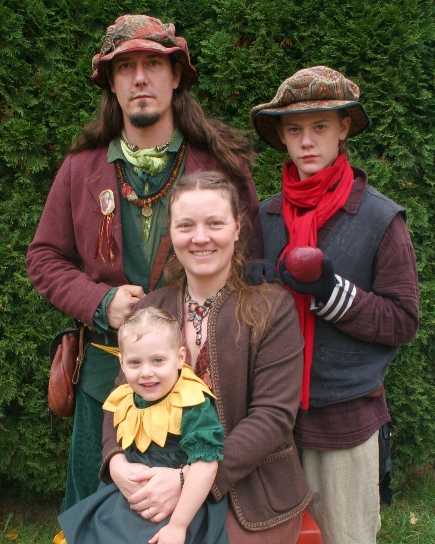 Portrait of an Artisan Family
Shane, Jared, Leah & Ellawyn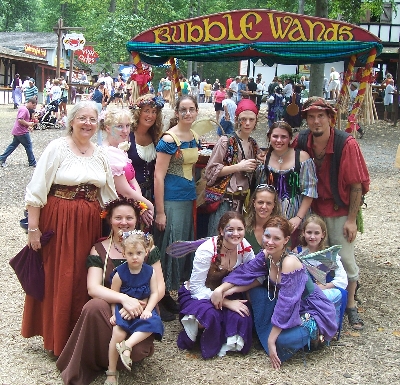 2006 Faery Crew is already hard at work bringing smiles to children and adults at the Maryland Renaissance Festival. We are supported by a wonderful group of friends and family who often claim that they would work for free just because it's fun! I guess we're doing something right to be blessed with such a fabulous crowd. See more pictures of Mummers and Masques at our
Photo Gallery
Starting from the top, Left to Right: Lady Mimi (The grandmother babysitter faery), Spencer, Rolinda, Angela, Jared, Jamie, Shane
Leah, Ellawyn (in her mother's lap), Mary, Heather, Jenn, and Eden.
WE LOVE YOU ALL!